We supply institutions with religious kufi skull caps in nylon and cotton and acrylic. Both machine-knit and hand-crocheted caps are popular with inmates all over the country. Most institutions prefer black and white kufi caps but we also offer other colors upon request. We allow our customers to purchase in large quantities according to their needs. We offer a one-size version of most of our religious caps that fit head sizes up to 23.5 inches.

Stretchable 100% nylon open-weave Muslim kufis caps. These light-weight and comfortable skull caps are great for everyday usage with your Muslim attire or as a prayer cap. Our nylon caps fit snug on the skull and are recommended for individuals with short hair or bald heads. The material for this kufi cap is knitted by machine then assembled by hand. This is a top-selling Muslim kufi cap because it is low-priced and easy to care for. This kufi cap can be hand-washed or machine-washed. Please check our size chart to ensure you choose the correct size for your head. All of our kufi caps come individually wrapped.
Machine-knit Acrylic Caps

We supply an exclusive line of quality machine-knit thin Muslim Turkish-style acrylic kufi caps (skull caps) which are very popular. They are perfect prayer caps and excellent to fit in your pocket. These long-lasting kufi religious caps are designed with a classic open-work geometric pattern. Most institutions prefer black or white but they also come in 8 other colors. All of our religious caps come individually wrapped.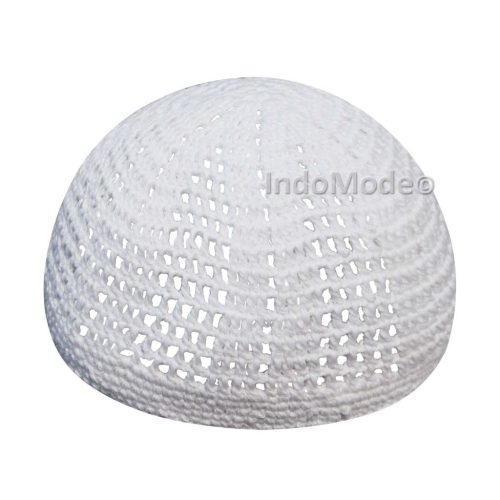 Soft comfortable stretchy open-weave, 100% cotton, hand-crocheted kufi head caps. High-quality soft 3-mm thick skull caps that are comfortable to wear. Perfect for bald heads because of the soft cotton feel. Please contact us regarding sizing details or special needs. Currently, this kufi cap is only available in black and white. This religious cotton kufi skull cap comes individually packed and can be custom-labeled with your specific barcodes or item numbers. We offer a one-size option for most of our kufi caps. This religious kufi cap is currently only available in White.